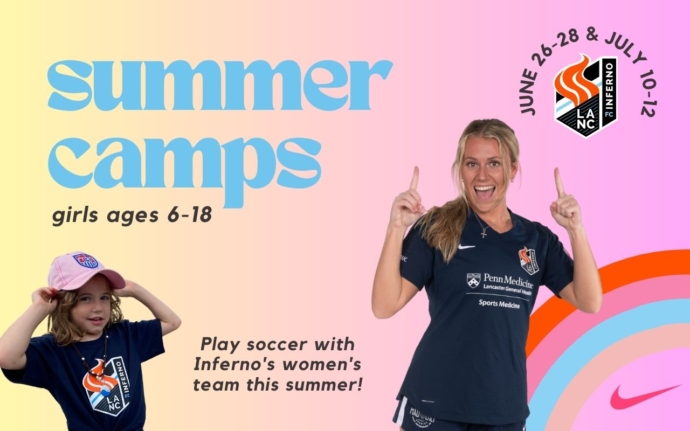 Summer Soccer Camps
Lancaster, PA — Lancaster Inferno is hosting two 3-day camps for girls ages 6-18 this June and July. Each camp will be unique and sessions will focus on developing technical skills, building confidence, and furthering a deeper love for the beautiful game.
Don't miss a chance to learn from former/aspiring professionals and college players who will mentor and inspire the next generation of soccer players. Limited spots available!
All coaches are SafeSport certified.
June 26-28 at Listrak Soccer Field
Address: 100 W Millport Rd, Lititz, PA 17543
Ages 6-18 (Girls & Young Women)
9:00 AM-NOON
Age groups divided by age and skill level
Includes goalkeeper training for at least 1 hour for keepers
Ball work, Finishing, Free Play/Tournament
Prizes & Snacks
Camp T-Shirt
Ticket to Lancaster Inferno Home Game
$135 | $125 for Lancaster Inferno FC players (2023 Fall/2024 Spring season).
Discount Option

Sign up for both camps at $250 total ($20 savings) | $220 ($30 savings) for Lancaster Inferno FC players
July 10-12 at Listrak Soccer Field
100 W Millport Rd, Lititz, PA 17543
Ages 6-14 (Girls)
9:00 AM-NOON
Age groups divided by age and skill level
Includes goalkeeper training for at least 1 hour for keepers
Ball work, 1v1/Small play to goal, Possession, Free Play/Tournament
Prizes & Snacks
Camp T-Shirt
Ticket to Lancaster Inferno Home Game (Last home game is July 9)
$135 | $125 for Lancaster Inferno FC players (2023 Fall/2024 Spring season).
Discount Option

Sign up for both camps at $250 total ($20 savings) | $220 ($30 savings) for Lancaster Inferno FC players