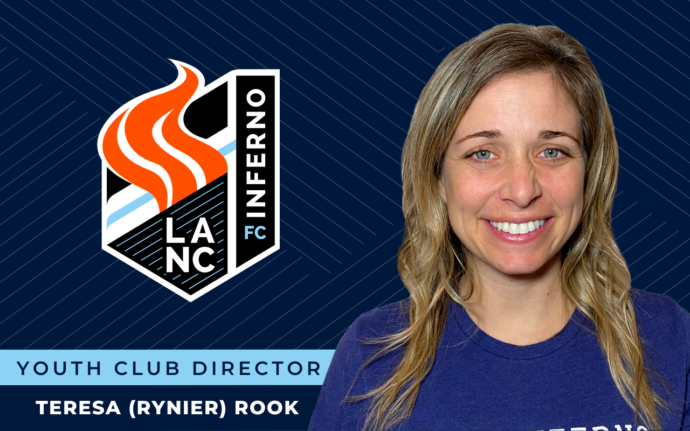 Teresa (Rynier) Rook appointed Youth Club Director
Lancaster, PA – Lancaster Inferno FC is pleased to announce that Teresa (Rynier) Rook has been appointed Youth Club Director. Teresa has been an integral part of the club for the past six years as a captain of its UWS pro-am team, coordinator of youth camps, and most recently director of Inferno's Summer Select program for U9-16 girls. She will lead the club's newly announced year-round girls soccer program.
"Having an all girls club with Lancaster Inferno FC is a special opportunity for players and coaches in the community," said Youth Club Director Teresa Rook. "I have played soccer for almost my entire life and spent the last 10 years coaching. I want to give back and mentor the young ladies who want to spend their youth doing the same. Developing soccer players and future leaders are my goals for the club."
Teresa (Rynier) Rook is a recognizable name in the soccer world. The Lancaster County native is one of the first local players to sign a professional contract. From the Conestoga Valley Youth Soccer Club (CVYSC) in the U-6 age group to the Lancaster Inferno of the UWS, Teresa has a long record of accomplishments.
Teresa played for the Hempfield Cosmos boys team at U12, and with the Lanco Premier U14 girls team. At U-14, she played for FC Delco against some of the best teams in the region. While at FC Delco, Teresa won the EPYSA State Cup and the Region I championship. She played 2 years with PA Classics Leeds and completed her club career for the next 3 years with the PA Strikers, where her team won another State and Regional championship.
Teresa also played for the Olympic Development Program (ODP) at the state and regional levels throughout junior high and high school. Her Eastern PA ODP team won two Region I championships, and her Region I team was a national co-champion. At Conestoga Valley (CV) High School she helped the girls soccer team win 4 league sectional championships, and the league championship her senior year. The CV Hall of Fame inductee also set new career records for goals (63) and assists (56), which still stands today.
While attending James Madison University (JMU), Teresa earned numerous awards including CAA All-Rookie Team as a freshman, and All-CAA First Team for the next three years. As a senior, Teresa started the year on the Hermann Trophy Watch List for Player of the Year in Division 1. Teresa was named to the NSCAA Scholar All-America First Team and NSCAA All-America Third Team. She finished her career with the assist record of 53 for JMU, the CAA and the state of Virginia.
After graduation from JMU, Teresa was drafted by the Philadelphia Independence, played for the Ottawa Fury, and later signed professional contracts in Sweden and Iceland.
In 2021, Teresa was inducted into the JMU Hall of Fame and recognized as one of the most dominant midfielders to ever play for JMU women's soccer. She still holds the program's career assist record (53) as well as ranking tied for fifth in career points. Teresa holds a Master's in Early Childhood Education from Millersville University and is a second grade teacher at Penn Manor School District.
"Teresa's passion and enthusiasm is contagious and we are extremely blessed to have her leading the youth club," said Club President Francisco Cleaves. "We would be hard pressed to find a better role model for our young soccer players."
Stay tuned for more announcements and updates on Lancaster Inferno FC. Prospective players can fill out the following inquiry form. For more information, visit lancasterinferno.com and connect with @LANCinferno on Facebook, Instagram, YouTube, and Twitter.