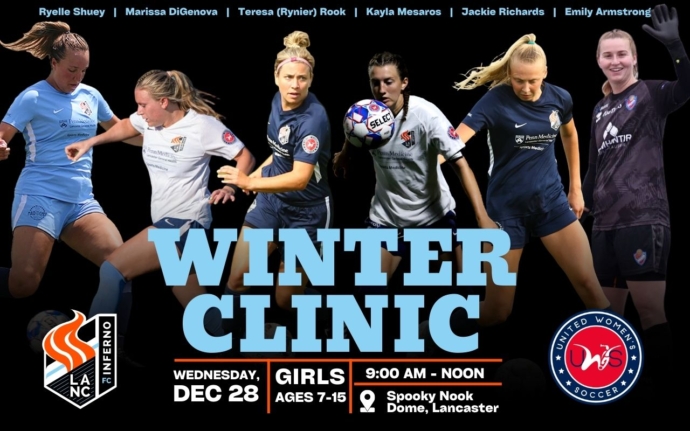 Winter Skills Clinic
Lancaster, PA — Lancaster Inferno is hosting a one-day soccer skills clinic during Winter Break for girls ages 7-15. The clinic will be led by a few of the stars from Lancaster Inferno's UWS team, including Ryelle Shuey (Lehigh), Marissa DiGenova (Temple/Pro player with PR Sol), Teresa Rook (JMU/Former Pro), Kayla Mesaros (St. Johns), Jackie Richards (Campbell), Jessica Weinoldt (McDaniel), Gianna Yurchak (Buffalo), and Kendra Jones (Villanova/Former Pro).
In addition, former Lancaster Inferno goalkeeper, Emily Armstrong (UConn), will be training our goalkeepers! Emily has been playing professional soccer in Norway, Sweden, and Iceland since 2017.
Don't miss this exciting opportunity for young players to be mentored and taught by these experienced players! The Winter Clinic will be held on Wednesday, December 28th at Spooky Nook Sports Dome from 9am-noon.
Timeline
9-10am Skills & Possession Games / Goalkeeper Training (goalkeepers only)
10-11am Small Sided Games & Shooting
11-12pm Mini-Tournament (Large Sided)
Pictures & Autographs
Feel free to bring a lunch and stay after to watch our UWS Women's Team Tryout at 12pm!
Details
Ages: Girls 7-15 years old
Date: Wednesday, December 28, 2022
Location: Spooky Nook Sports (75 Champ Blvd, Manheim, PA 17545). The clinic will be on turf inside the dome/bubble.
Check-In: 8:40 – 8:50 AM
Time: 9:00 AM – NOON
Cost: $75 – Open to players regardless of club affiliation / $70 for Lancaster Inferno FC players
Early Bird Special: Free Gaiter/Headband if you register by November 25th!