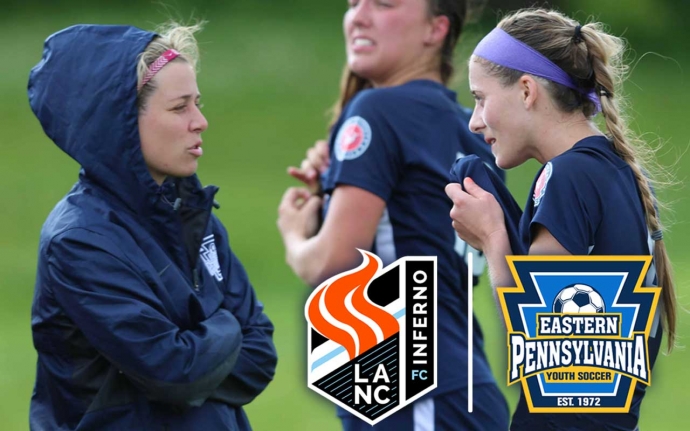 Lancaster Inferno & EPYSA to Host All-Female Coaching Education Course
Lancaster, PA – The Lancaster Inferno and Eastern Pennsylvania Youth Soccer (EPYSA) will be hosting the first-ever all-female USSF National D License coaching course inline with U.S. Soccer's new grassroots pathway. The Inferno and EPYSA recognize the disproportionate amount of women in coaching and they are working to be part of the cultural shift to having many more female coaches throughout the various levels of soccer in the United States.
The National D License is an online and in-person course, that begins  with an online experience and has either one or two in-person meetings. Due to COVID-19, U.S. Soccer has provided the two options to ensure that education can continue in a safe manner and the hosting agency will determine the appropriate option. The Pre-Course begins on March 25th and runs through June 24th, 2021.
In order to be eligible for a U.S. Soccer National D License Course, coaches must have either a National E License or have completed two in-person Grassroots Courses (one of which must be the 11v11) AND one online Grassroots Course. More information on the course can be found at the following link.
"Our team captain Teresa Rook (Rynier) has been working with EPYSA leadership to bring this course to Lancaster," said Inferno's President and Coach Francisco Cleaves. "We are excited to host the USSF D License Course to help provide additional opportunities not only to our players but to all female coaches in the area."
ABOUT LANCASTER INFERNO
Based in Lancaster, PA, the Lancaster Inferno is a women's soccer club with teams competing in the United Women's Soccer (UWS) national pro-am league, and UWS League Two. As a non-profit, their mission is to advance women's soccer by establishing high caliber teams in partnership with businesses, soccer clubs, and supporters. The first team is back to back UWS East Conference Champions (2018 & 2019), 2019 UWS National Semifinalist & 2018 UWS National Runners-Up. For more information, visit Lancaster Inferno on their official website lancasterinferno.com and follow them on social media @LANCinferno.
ABOUT EASTERN PENNSYLVANIA YOUTH SOCCER (EPYSA)
Eastern Pennsylvania Youth Soccer exists to promote, foster and perpetuate the game of soccer on the youth level in the territory designated as Eastern Pennsylvania and foster the mental, physical and emotional growth of the eastern Pennsylvania youth through the sport of soccer. For more information, visit EPYSA on their official website epysa.org and follow them on social media @EPAYouthSoccer.