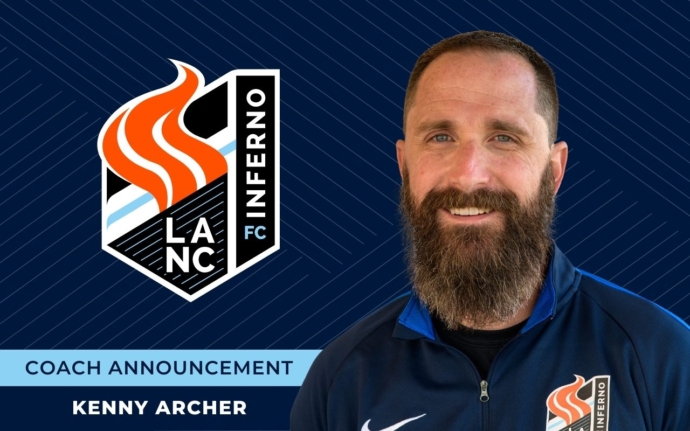 Kenny Archer joins Youth Coaching Staff
Lancaster, PA — Lancaster Inferno FC is ecstatic to welcome Kenny Archer to the coaching staff of their year round all-girls travel soccer club. Kenny is also entering his second season as Goalkeeper Coach of Inferno's First Team and U23 Team that compete in the United Women's Soccer (UWS) national pro-am league.
"Kenny is a valuable member of our women's team coaching staff and we can't wait for him to join our youth program to help develop our youngest players," said Youth Club Director Teresa Rook. "He has the experience and the growth mindset that we need in our coaches."
Kenny Archer has over 20 years of experience coaching various levels from youth to college. At the club level, he spent 11 years training goalkeepers and teams at Penn Legacy Soccer Club, PA Classics, Lebco United, and the Nook Sports Futsal Academy. Kenny also served as Head Coach and Goalkeeper Trainer for the Girls and Boys Soccer Programs at both Coatesville Area HS and Elizabethtown Area HS. At the college level, he has served as Goalkeeper Coach for the Elizabethtown College Men's Teams and the Women's & Men's Teams at Penn State University – Harrisburg.
"Having been a part of the women's team staff, I am truly excited to join the youth staff and be a part of the bigger picture," said Kenny Archer. "I look forward to joining a staff with the common goal of advancing the women's game and helping our youth reach their full potential. This club is bigger than any one coach, any one player, and any one team. Its going to be awesome to ensure it sticks around for years to come!"
Kenny had a successful playing career at Penn State University – Berks, where he was EPCC All Conference Goalkeeper and led the team to the Conference Championship and Semifinal. He holds his USSF National D License and the NSCAA Advanced National License. Kenny also holds a BS in Psychology from Penn State, a Master's Degree in Counseling from West Chester University, and a Coaching Psychology Certificate from the University of Colorado.
Kenny resides in Elizabethtown with his wife, Courtney, and their four children.
Additional Coaches and Coaching Assignments for the travel program will be announced soon for the Fall 2023/Spring 2024 season. Interested players can register for tryouts at the following LINK. Stay tuned by following @LANCinferno on Facebook, Instagram, and Twitter.